Hispanic Heritage Month 2013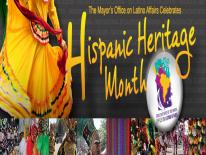 The Office on Latino Affairs (OLA) celebrates Hispanic Heritage Month 2013 from September 15, 2013 - October 15, 2013. Hispanic Heritage Month represents a time when our office recognizes the valuable contributions of Latino's to our country's history, while advancing new trends in the District of Columbia.
For most Latino families in the District, celebrating our culture is a priority. It frequently permeates our lifestyle embedding itself in our psyche. This year OLA will feature a calendar that will provide District residents the opportunity to take part of a month long celebration. This is the perfect opportunity to delve more deeply into the history of our ancestors and help increase your knowledge of the role that Latinos have played in the United States and the District of Columbia. If you have any questions please feel free to contact the office on Latino Affairs at (202) 671-2827 or via web www.ola.dc.gov.