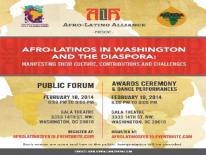 Last Date:
Details:
The District of Columbia Mayor's Office on Latino Affairs, in collaboration with ACADA and the Afro-Latino Alliance, will host two public programs during Black History Month focused on Afro-Latinos.
"AFRO-LATINOS IN THE DIASPORA: HISTORY, CULTURE AND CHALLENGES IN ASSERTING THEIR RIGHTFUL AFRICAN IDENTITY"
This program is designed to make the larger DC community aware of the myriad challenging issues confronting the Afro-Latino community not only in the United States, but also throughout the Americas.
WHEN: February 18, 2014
WHERE: GALA Theatre, 3333 14th St. NW; Washington, DC 20010
TIME: 6 pm to 9 pm
Register for the event HERE

The event is open and free to the public. Interpretation will be provided.
"AFRO LATINO RECOGNITION AWARDS CEREMONY: CELEBRATING THE CONTRIBUTIONS OF AFRO-LATINOS IN ADVOCACY, HUMAN RIGHTS, EDUCATION,VOLUNTEERISM AND THE ARTS."

This awards ceremony will recognize not only Afro-Latinos, but others who have demonstrated significant efforts in advancing the Afro-Latino cause. It is widely acknowledged that Afro-Latinos suffer from racism, discrimination and social exclusion and as a result, are seldom recognized for their contributions.

The awards ceremony aims to correct that omission and publicly recognize the historical and numerous contributions that Afro-Latinos have made in the Washington Metropolitan area, as well as the Americas.

WHEN: February 19, 2014
WHERE: GALA Theatre, 3333 14 St. NW; Washington DC 20010
TIME: 6:00 to 9:00 PM
To register for this event please click here
The mission of the Mayor's Office on Latino Affairs (OLA) is to improve the quality of life of the District's Latino residents by addressing a broad range of social and economic needs through strategic management of public and private partnerships, expertise on policy, community relations, civic engagement and community-based grants.
ACADA is a cultural organization under the leadership of Vicky Leyva, a Peruvian singer residing in the Washington Metropolitan Area who also dedicates her work to educating the public on cultural and artistic issues related to the Afro-Latino community.

The Afro-Latino Alliance is a newly formed group dedicated to the advancement of the Afro-Latino community through advocacy, education and coalition building.